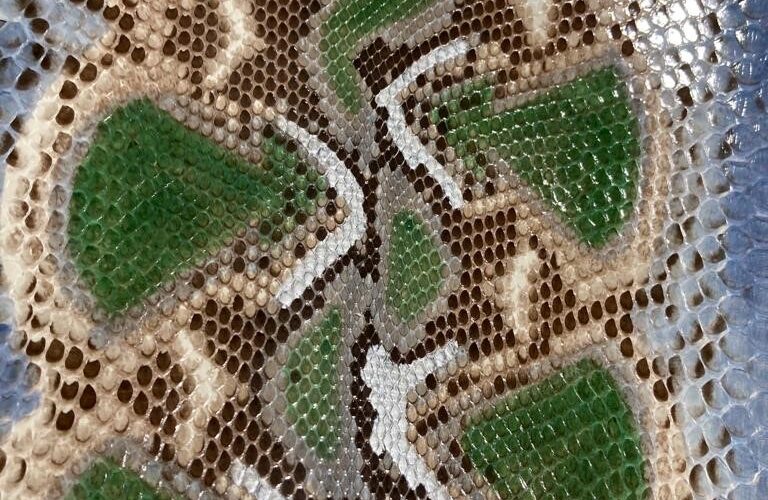 The Caravel SS 2024 collection moodboards enhance the qualities of exotic leather with a nod to the animal and natural world, vintage imagery and the opulence of antiquity.
At the end of February 2023 Caravel took part in Lineapelle fair in Milan, presenting the new Spring Summer 2024 collection, made up of exotic leathers developed according to four main moods.
The close collaboration between the production craftsmen and the research and development office has given life to a selection of leathers characterized by a marked creative style and extreme quality, tested as always in each processing phase.
The new skins are based on four themes: Dogue, Hellenical, Microcosmos and Old Fashion Holidays. Unlike the FW 2023-2024 collection, marked by very different suggestions but with a strong identity, the new collection winks at themes that dialogue with each other.
Inspirations from the animal and natural world join in fact with ancient and vintage reminiscences, for a prestigious collection able to anticipate the trend and perfectly respond to the needs of the luxury sector.
>> Look at the moodboards of the collection presented at Lineapelle
Dogue
Dogue is a mood that draws inspiration from the animal world, in particular from the unmistakable liveries of big cats and other wild animals. The hypnotic texture of exotic leathers is therefore combined with well-defined geometries, embellished both by the use of neutral colors and by the creation of particular vintage effects.

Hellenical
Starting from the imagery of the Hellenic period, Hellenical mood brings together a series of precious exotic leathers dominated by glitz and a selection of strong and metallic colors. The effect of opulence and grandiose classicism is completed by the finishes, performed in such a way as to reproduce and recall the natural patinas of gold and bronze, but also the effect of ancient paintings and oxidized metal.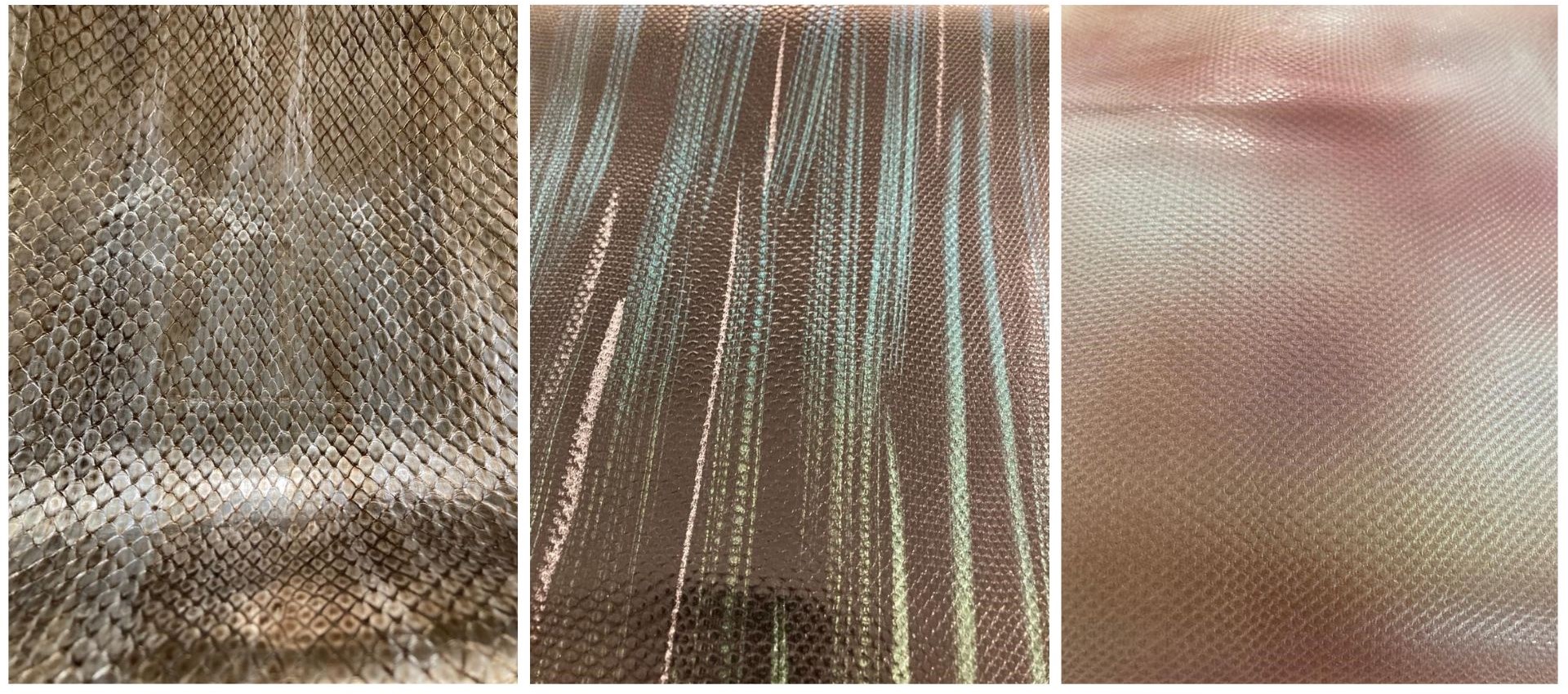 Microcosmos
Microcosmos refers to the natural universe, to its inimitable geometries and to the nuances that characterize it. Thanks to a special gel effect, the hides are enriched with suggestive glazes and opalescences. Particular attention is given to the details, which stand out like precious iridescent and brilliant points of light on the texture of the leather.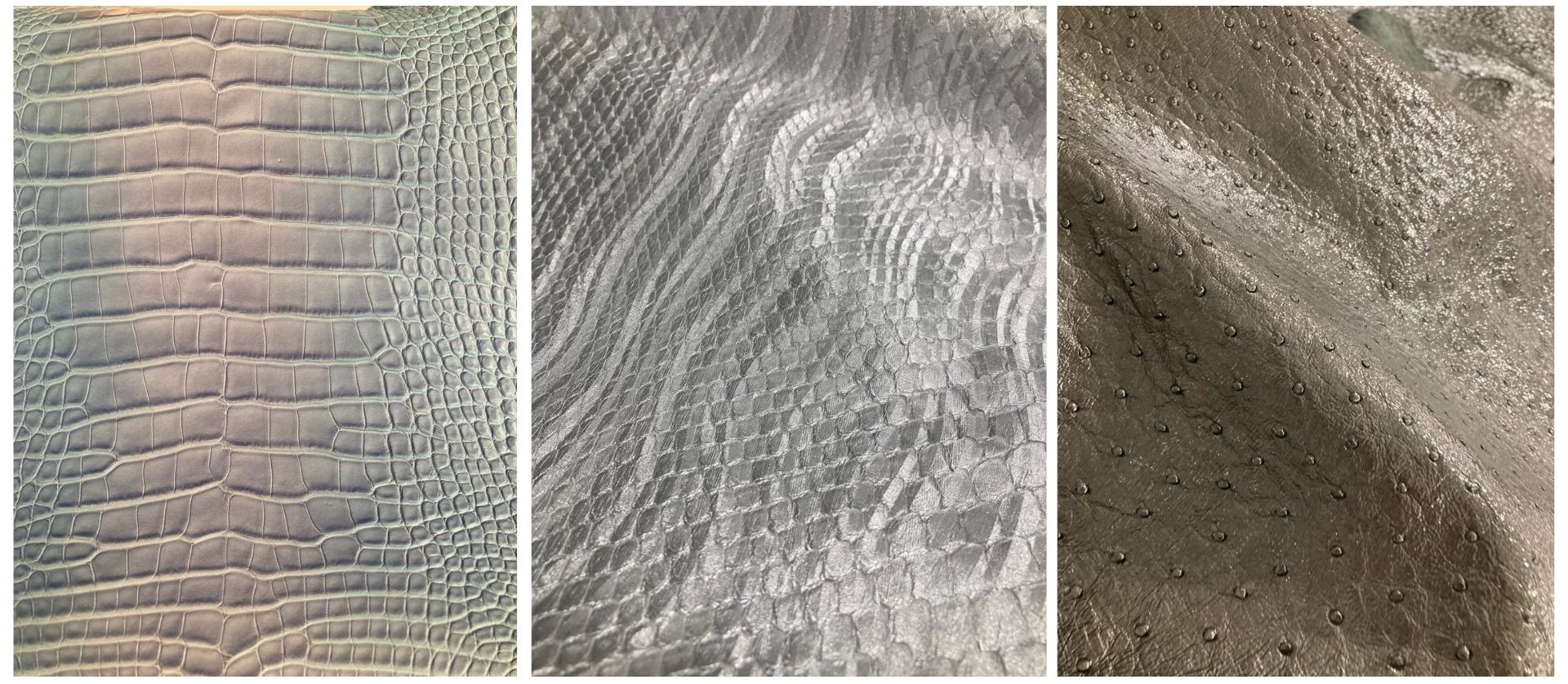 Old Fashion Holidays
Directly from the vintage imagination, Old Fashion Holiday is a tribute to the "holidays of yesteryear". The focal point of the mood is the use of very bright and vitaminic colors with a strong impact. The shades and varnishes used, together with the hand painting techniques with which they are applied, give the leathers an intense ceramic effect that does not go unnoticed.