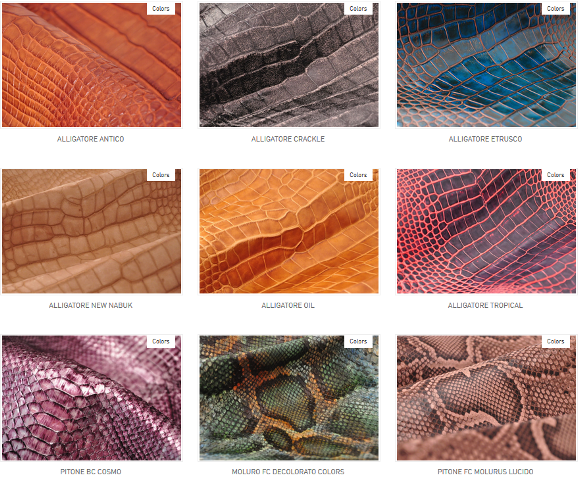 The A/W collection 2016/2017 has been inspired by basic colors offered with brightly tones such as yellow, orange and light pink. These colors, often used for the summer collections, but have been made suitable for winter by increasing the intensity of the colour. This process of coloring has particularly been used for items such classics as alligator and crocodile leather both glossy and matte finish, and pythons with the natural patton and unified colour.
We have presented elegant and refined items such as alligators and Nile crocodiles polished in a gloss version, nabuk classic leather and make to look older and brushable. Also colour washed articles and other with a shiny metallic effect. These new revisited colors for the winter collection have enhanced the classic items such as shiny, softened and polished, now available in bright shade suitable for winter.
Regarding pythons, our research has sought to emphasize in particular the tanning phase, for the soft surface feel, the fullness of the skin, and for both the glossy and opaque finishing.
We have created articles with textile effect, in some cases also with metallic effect, so we are able, in this case, to maintain a good degree of softness, as a real fabric. The hand-painted items in this collection are inspired by lines and shapes, balanced by the natural design of the pythons skin, wich gives a very pleasant and original final visual effect.
For other leathers like ostrich, crocodile hips, tejus, lizard, anacondas, karung, ayers and ostrich fit, we had chosen classic finishing, combined with warm and lively colors, inspired by the same collection.