Style Research, design development, innovation and product customization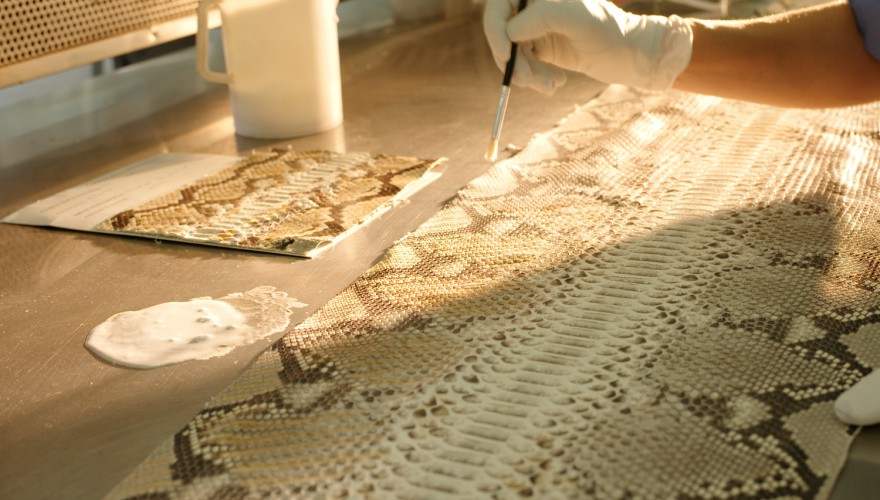 In the fashion world, quality is a concept that is reinvented every day. So to keep pace with a changing and competitive market you need to have points of reference to guide your research and design innovation.
The values of Caravel style are typical of the best Made in Italy:
the technical expertise and experience of over a decade-long family tradition,
the desire to satisfy the needs of its customers
passion and creativity
the desire to experience, respect and to reinterpret traditional aesthetic canons in relation to the pursuit of beauty
openness to new cultural influences.
There is a cosmopolitan style which embraces modernity and aspires to anticipate trends in order to give designers a wide palette of exotic exclusive leathers able to convey emotions and feelings even before becoming an artifact.
This is an activity in which Caravel has dedicated an entire company department: the Research and Development section. A group of experts, working in collaboration with stylists and designers, allow our staff to develop innovative proposals in order to interpret the trend of the moment. A continuous exchange of ideas and inspirations, aimed at the creation of exclusive supply and tailored to the needs of each individual customer. The result of this work has generated up to today an archive of thousands of solutions that combine experiments, studies, types of decoration, colors and finishes.
Reference values of the Caravel style
Family tradition combined with technical skills
Continuous research for quality
Creative and technological innovation
Passion for exotic leathers and enhancement of the "made in Italy"
Ability to listen, flexibility in design and production
Centrality of the customer and service logic